Alrighty, so what do you do if you fail to catch the 95X in the early morning and can't afford $8 for an Amtrak ticket? Why, you ride this Flex, of course! Let's take a look.

WARNING: copious amounts of colorful language and caps ahead. Read at own discretion.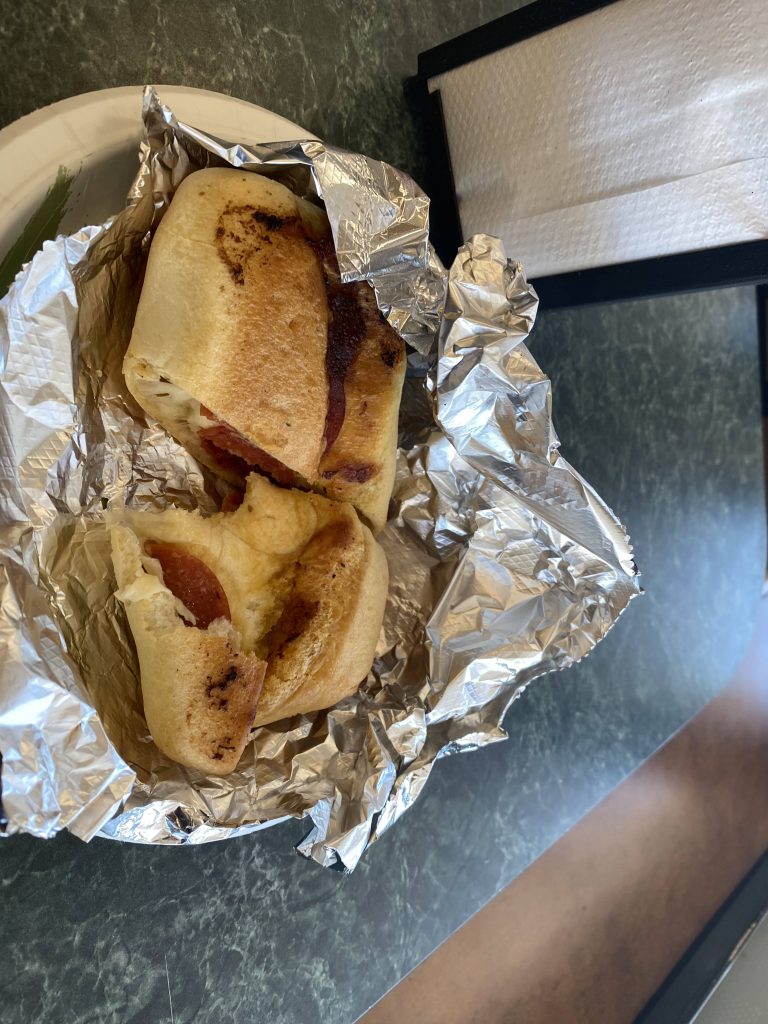 So after eating a calzone for lunch at a local bakery, I sit there waiting for the 204 Flex. And I wait. And wait. And wait. Eventually I see a Flex van pull in and- what???
NO! NO! PLEASE NO! WHY ARE YOU GOING IN REVERSE, AND LEAVING THE PARKING LOT?! THERE'S SOMEONE WHO WANTS TO FUCKING RIDE THE 204 WAITING RIGHT HERE!! AND TO PROVE I'M NOT BEING A KAREN ABOUT THIS, HERE'S THE TIMEPOINTS WITH SCHEDULES.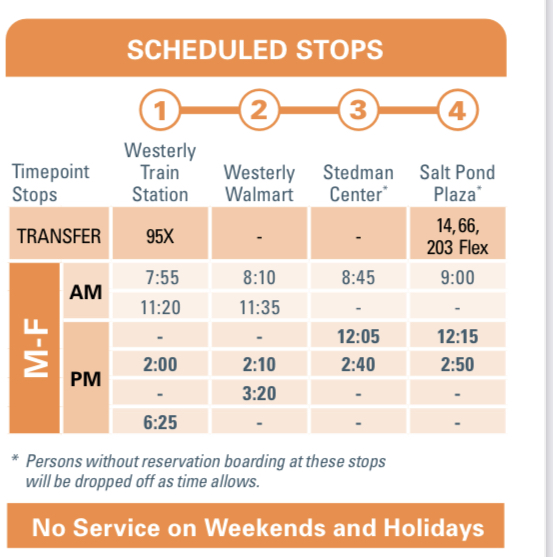 YOU CAN'T JUST NOPE THE FUCK OUT OF A BUS STOP LIKE THAT, WHEN YOU'RE LITERALLY THE ONLY WAY IN AND OUT OF WESTERLY OUTSIDE THE MORNING AND EVENING RUSH HOUR COMMUTES! THIS IS WHORE SHIT TO THE HIGHEST DEGREE, AND QUITE POSSIBLY EVEN WORSE THAN THE 54. YES, I'VE SAID IT. THIS IS EVEN WORSE THAN THE BUS ROUTE FROM HELL. AT LEAST THAT COMES REGULARLY. THIS THING ONLY COMES, AS YOU CAN SEE, THREE TIMES A DAY TOTAL, AND I WASN'T ABOUT TO FUCKING WAIT UNTIL 2:50 WITH A REAL RISK OF MISSING THE 3:40 INBOUND RUN OF THE 95X. UH, NO THANKS! LIKE, THIS SHIT IS INEXCUSABLE. I'M TALKING "WHOOPS, I ACCIDENTALLY CREATED PLUMBING ISSUES AT WALMART WITH MY COLLEAGUES" LEVELS OF INEXCUSABLE.
Now, let's see where it WOULD go, if it showed up. From here, it'd get on US Rte. 1 and begin running express to Westerly, which takes a while with how remote it is. In between, much of the northern part of the city, along with the Walmart Supercenter, is in the Flex zone. The last timepoint (first, rather) is Westerly Station, where one can transfer to the 95X and 301.
The good: It's a mission-critical link between Westerly and the rest of the state outside the morning/evening commutes!

The bad: IF THE FUCKING BUS DOESN'T SHOW UP, YOU'RE SCREWED.

Nearby points of interest: The Stedman Center and Salt Pond Plaza, along with Westerly primarily.

Overall, WHY IS THIS NOT A FIXED ROUTE RUNNING REGULARLY?! MAYBE, JUST MAYBE, IF IT WERE, THEN NO-SHOWS WOULDN'T BE SUCH A MAJOR FUCKING ISSUE!

Rating: 2.5/10