Alrighty! Now that I've finished up the main RIPTA saga, I still have a few bits of bonus content (mainly Flexes) to take care of before sealing the coffin for good. This is one of them. Meet the 301.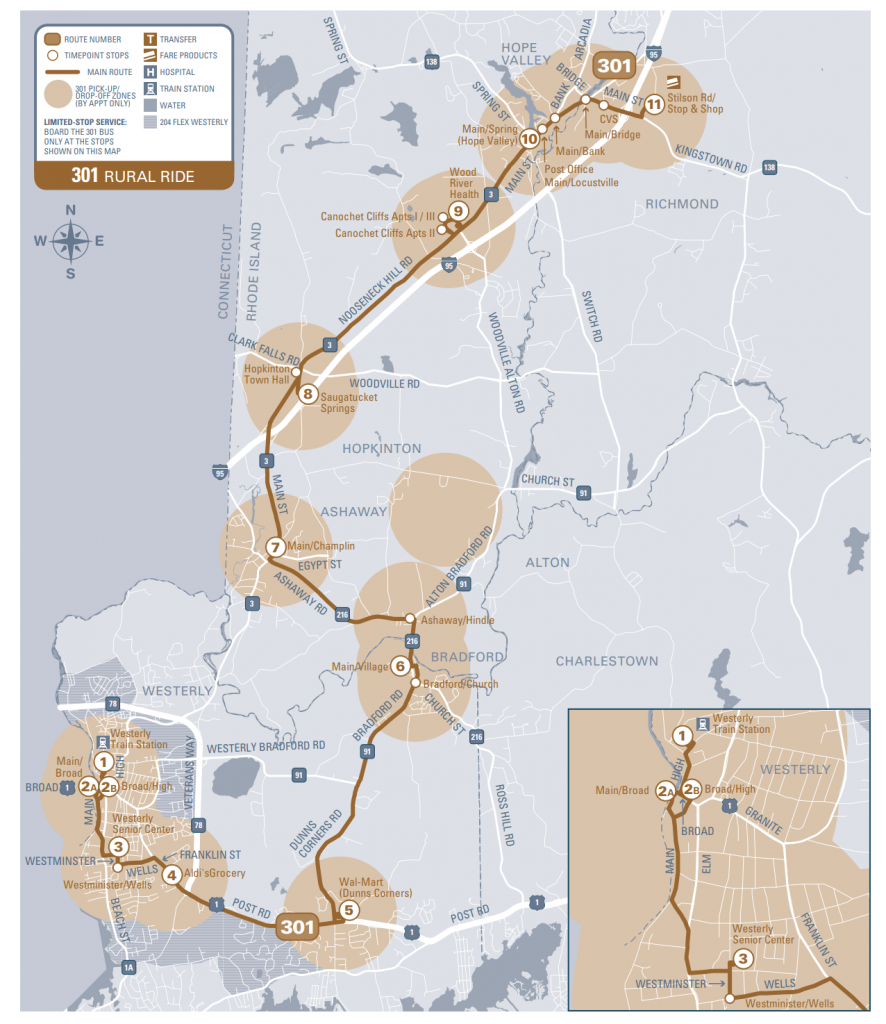 Alrighty, so the route runs between Westerly Station and the Stop & Shop in Richmond. Stops are as follows:
Westerly Station
Main/Broad (outbound) or High/Broad (inbound)
Westerly Senior Center
Aldi's @ Franklin St.
Walmart @ Dunn's Corners
Village and Main, Bradford
Main and Champlin, Ashaway
Saugatucket Springs, Hopkinton
Wood River Health
Main and Spring, Hope Valley
Stop & Shop, Hope Valley
The schedule is clear-cut, with a round trip between Westerly Station and Stop & Shop, and a "most of the way" one-way trip, between Westerly Station and Wood River Health. I'm pretty sure that, if Miles' experience on this is to go by, most ridership comes from Wood River Health. And, if that's the case, it's probably in their best interest to take it off RIPTA's hands. I mean, for crying out loud, it's Friday-only AND doesn't even accept Wave, just $2 cash. Amusingly, it's numbered at the stop sign at Westerly Station.

The good: It's a lifeline for those who use it! Hell, the rural nature of the route means it's really the only lifeline for those at Wood River Health.

The bad: There's no real reason for this to even be a RIPTA thing! Like, 1 and a half round trips?! I'm sure if it were a normal fixed route, ridership might be a little better, but would it? I get rural public transit is a difficult beast but even then. Just, please, Wood River Health, just take this thing off RIPTA's hands. Furthermore, it doesn't even accept Wave! Also, $4 for Flexing the route? Huh, that's an odd one. Yeah, apparently you can deviate up to half a mile from any scheduled stops. I'd argue the routing for this would be better for a URI-Westerly connector route, which would at least have an added bonus of being a lifeline for those at Wood River Health.

Nearby points of interest: The two park & rides along the 95X, I guess. There's Hope Valley, Hopkinton, and Westerly – albeit with a real chance of no way back. One could also connect to the 204 Flex, the 95X, or an Amtrak to get out of this sealed-away corner of the state.

Rating: 2/10, though 10/10 for the idea